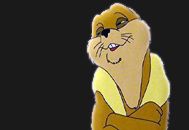 Raccoons, The


Home/Change Series

An animation dealer said it best when he told me, "Canadians ROCK when it comes to animation!" Take one look at "The Raccoons" and you'll know what he meant. Four television specials during the early 1980s led into a 7-season series, subsequently attracting more than 2 million viewers weekly to its prime-time slot. All this at a time when "Simpson" was just another name in the phone book.

Wonderful character development & design, poignant & well-written (if occasionally preachy) storylines, and a 1980s soundtrack adds up to a marvelous series that still holds up today. In fact Lisa Lougheed's theme song, "Run With Us" won a Juno award --the Canadian version of a Grammy.

In my opinion, no animated television series since has even come close to its mastery --and yes, that includes those dysfunctional folks from Springfield.

The talent of "Raccoons" alumnae has not diminished in recent years either. Dean DeBlois, a former assistant animator on the series, recently co-directed Disney's marvelous "Lilo & Stitch".