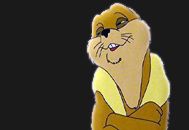 Land Before Time, The


Home/Change Series

Don Bluth's 1988 prehistoric adventure is often blamed for inspiring the awful subsequent trend of bad direct-to-video sequels. While the LBT franchise is still the undisputed king of bad sequels, the original film was actually pretty good, boasting a strong story, diverse characters and, unusually for a Bluth film, no song-and-dance numbers. It was originally scripted to run about half an hour longer than its ultimate runtime of 67 minutes, the cuts attributed to the limits of childrens' attention spans.

At any rate, the story was good enough that Disney didn't think twice about ripping it off almost in its entirety with their CG crap-tastic "Dinosaur" (2000) -arguably the only film that might've actually been improved by some song & dance. It certainly couldn't get much worse.